If you've ever been to the Huntington Gardens in Pasadena, CA you may have passed by a tall bronze sculpture in a large grassy field along the pathway to the conservatory. I've always been mesmerized by this sculpture – how the higher than high bronze rods move so gracefully with any subtle breeze and with a big enough gust of wind will bang into one another creating a beautifully rich sound. The lizards seem to love it too as they sunbathe on the sculptures' base absorbing the heat and the vibrations. The last time I was there I learned a little more about it. I found out that the artist is Harry Bertoia, whose sculpture and furniture designs I have always loved, which explains why I was drawn to it on each visit.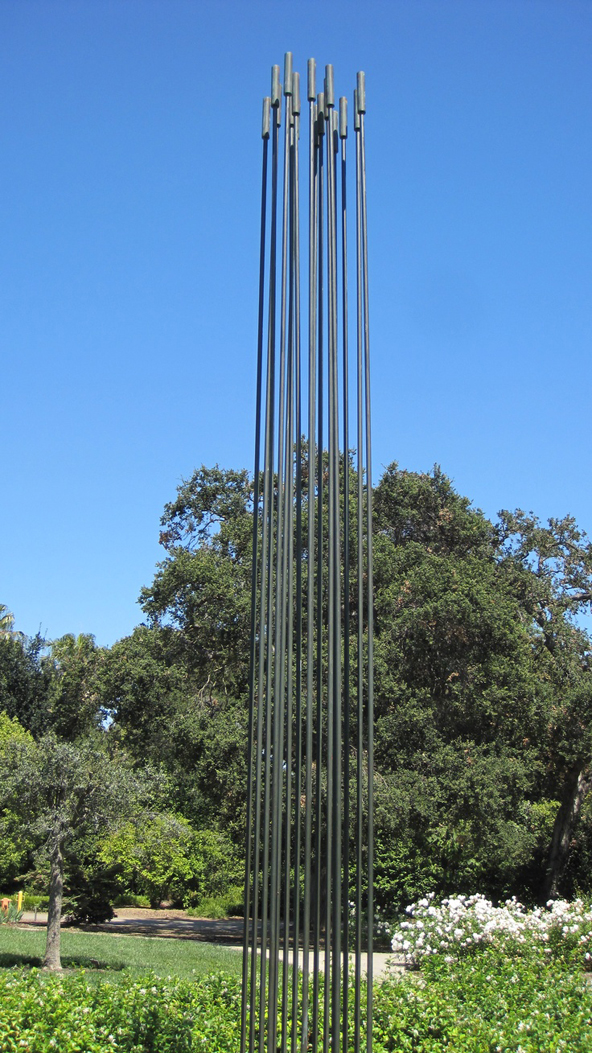 "The 19­-foot tall bronze Sounding Sculpture was made in the 1970s by designer and sculptor Harry Bertoia (1915-­1978). It consists of a delicate, airy tower formed by a tall cluster of 16 thin beryllium­-copper rods crowned with bronze "cat-tail" tops. When blown by the wind, the sculpture emanates mysterious, harmonic tones that combine softly with the natural sounds of birdsong and rustling leaves on The Huntington's grounds." Source: Huntington Gardens Website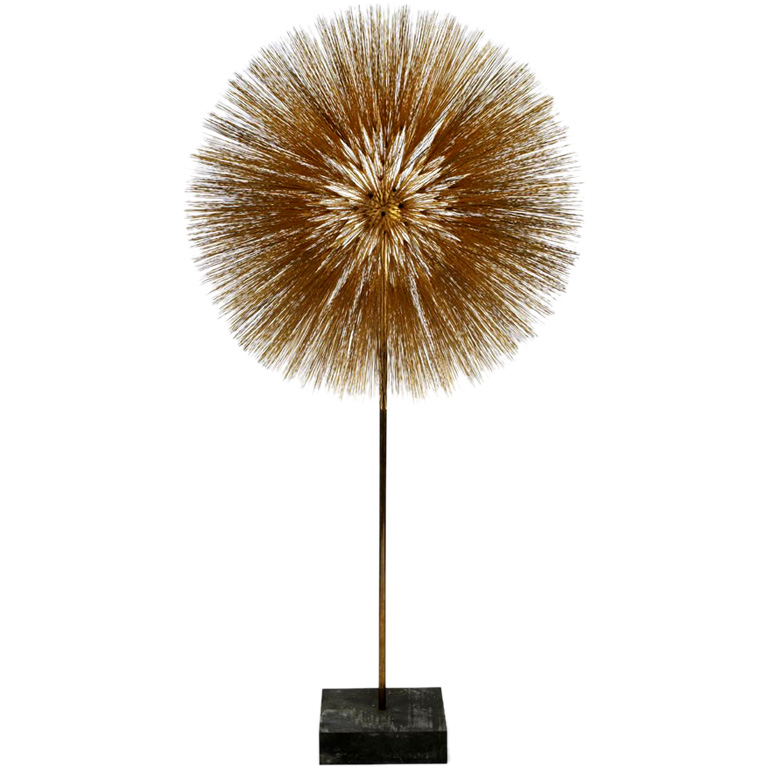 Dandelion ca. 1965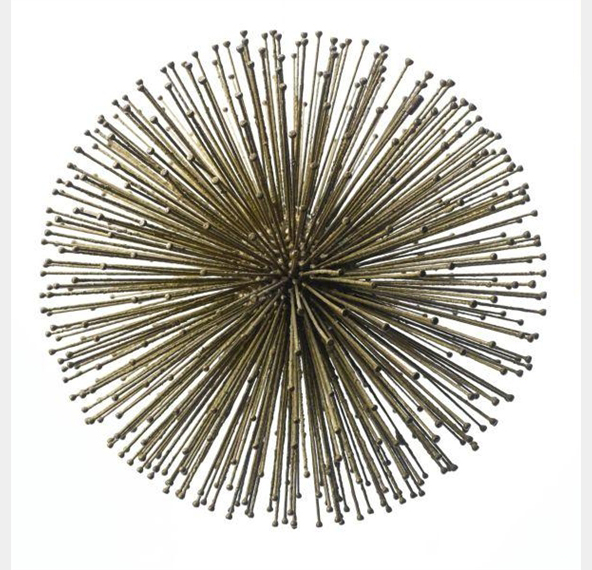 Sunburst, ca. 1960. Welded copper and brass, diameter: 15 1/4 in. (38.7 cm)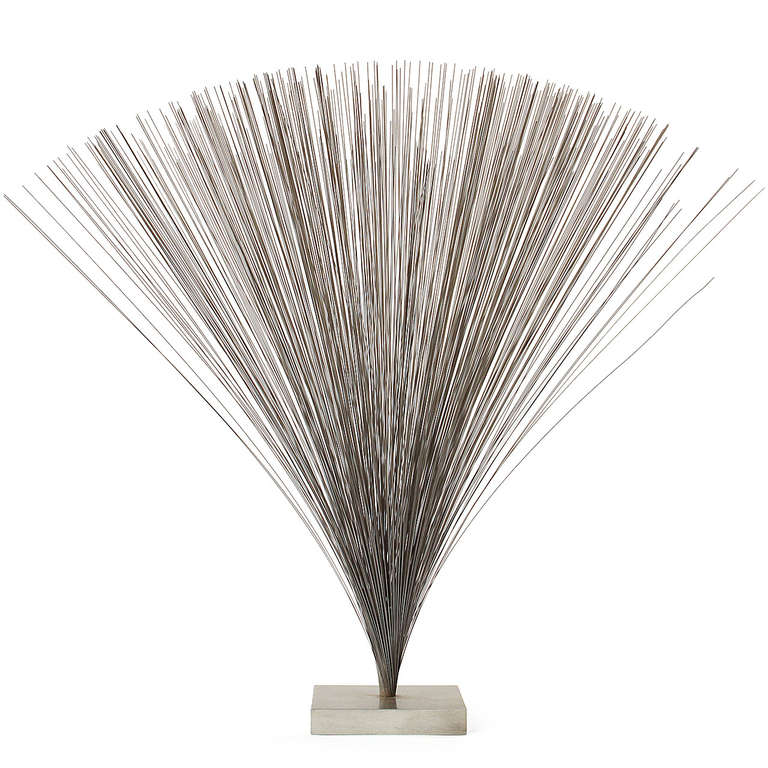 Spray Sculpture, ca. 1960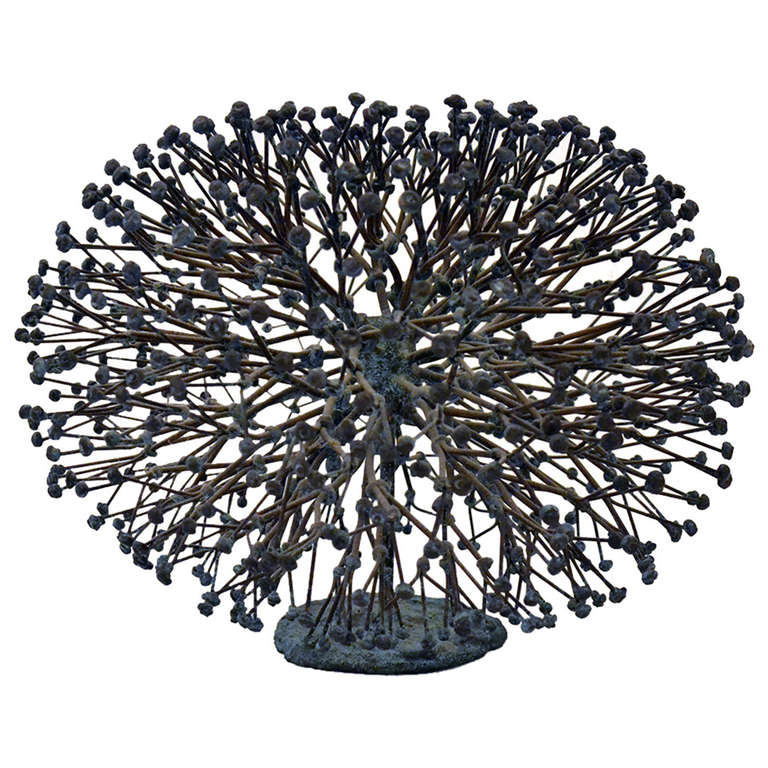 Bush, ca. 1960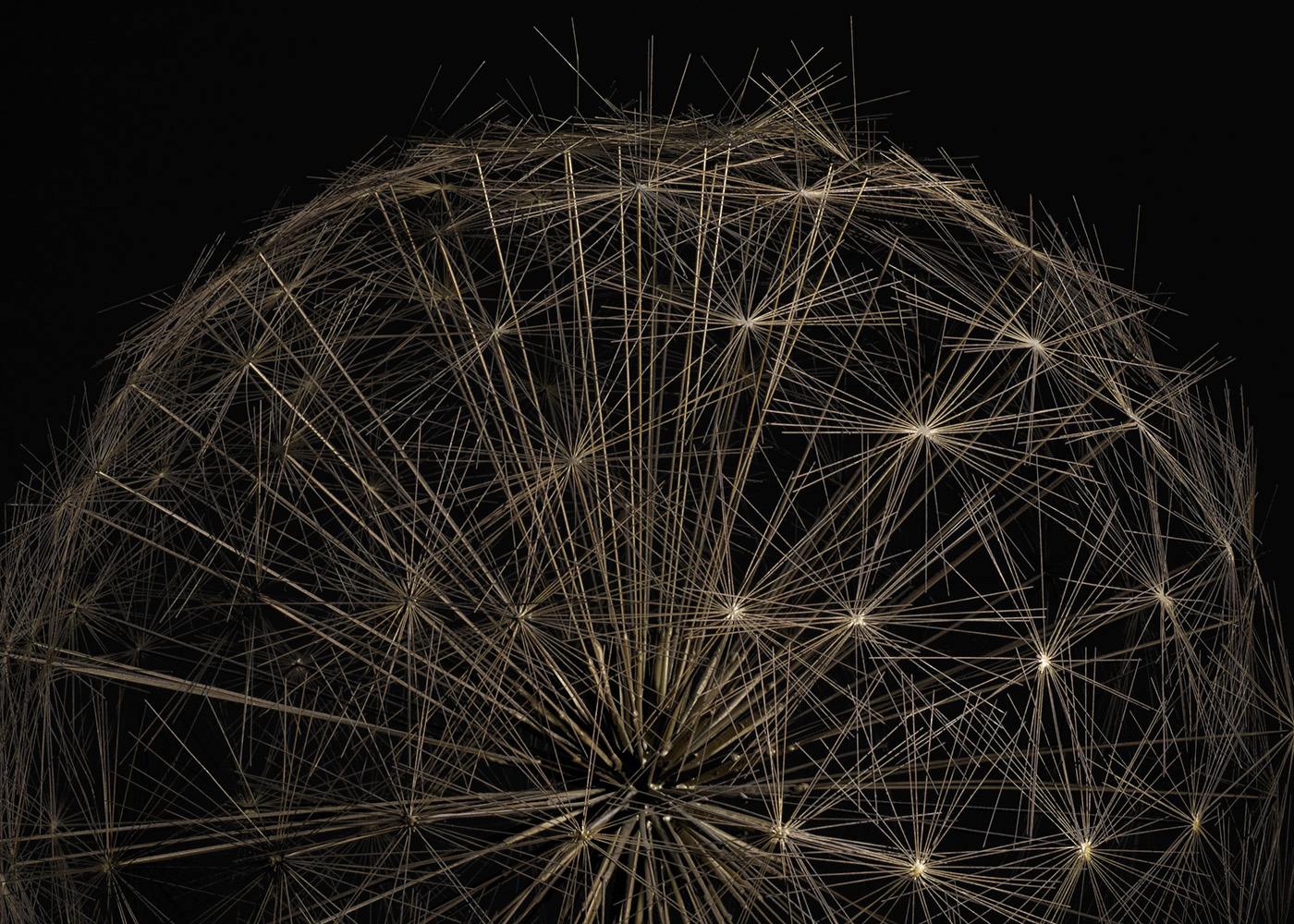 Dandelion detail, ca. 1960-1965
What I've known to be the signature sculptures of Bertoia are works like his sunbursts, sprays, dandelions, and bushes (shown above) but with one click of a google search I now see that his sonambient sculptures were an important part of his  body of work.
From the official Harry Bertoia website:
"Bertoia recalled how, as a child, he wished there was a musical instrument that anyone could play instantly. His father and brother were musically inclined and played the accordion. Arieto would tap his foot, not owning the same talent. Later when a group of Hungarian gypsies came through his village in northern Italy, they banged on pots and pans with a rhythmical beat. These vibrations left an impression deep inside young Arieto.
As an adult, Bertoia never stopped experimenting with, playing, and enjoying his art. The tall tonal wire pieces came about when he was bending a single heavy wire and it met another piece and made a wonderful sound. It provoked wonder as to what two or three or twenty rods might sound like. Thus began the adventure down the path of "Sonambient" or the environment created by sounding sculptures. He never made the same piece twice, always seeking a different or richer sound with varying size rods. Thousands of sounding sculptures from 6" to 20' are in high demand at auction houses.
After renovating the old estate barn, Bertoia collected about 100 sounding pieces, including gongs and "singing bars", in the now acoustically excellent barn. He went to great lengths to set up just the right tonals in the ideal order, often substituting a new experimental sculpture for a previous selection. With technical help, he recorded eleven LP albums of "Sonambient", which are haunting, mysterious, and at times church-like reverberations. The rods resound on each other, the bars give a Zen-like chime, and the gongs thunder in endlessly varying combinations. The barn remains intact with the sounding sculptures set up by Bertoia, where son Val gives concerts."
Listen to Harry Bertoia's son Val playing these sound sculptures in the video below, so stunning!
Visiting the Bertoia studio in Pennsylvania and hearing a private concert of these amazing Sounding Sculptures is now definitely on my bucket list! For more information on the life and art of Harry Bertoia, visit www.harrybertoia.org.
My new goal is to collect all 11 LP records originally produced by Harry Bertoia as seen below but until then the audio CD version of the Sonambient albums will have to do.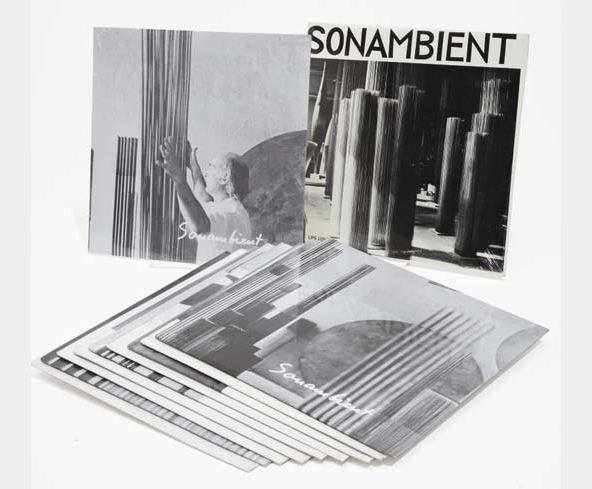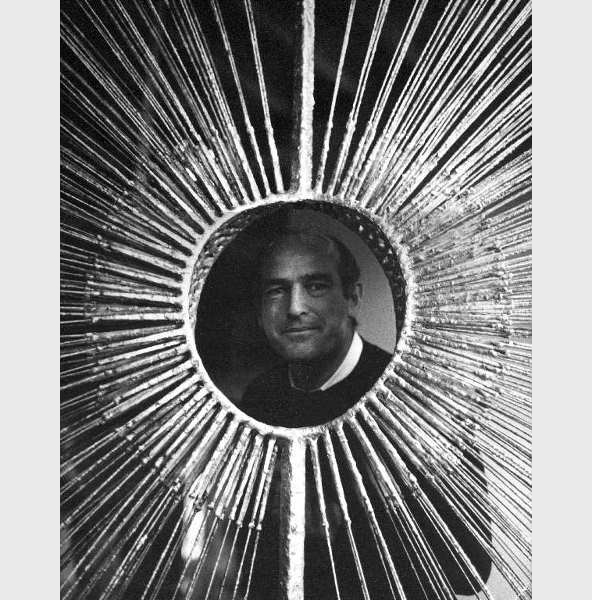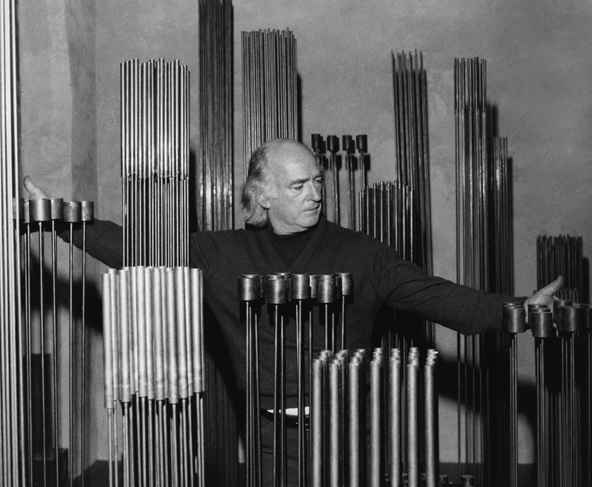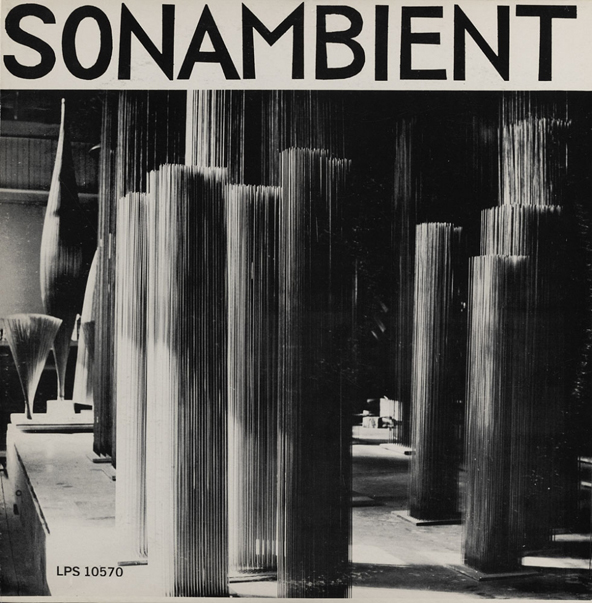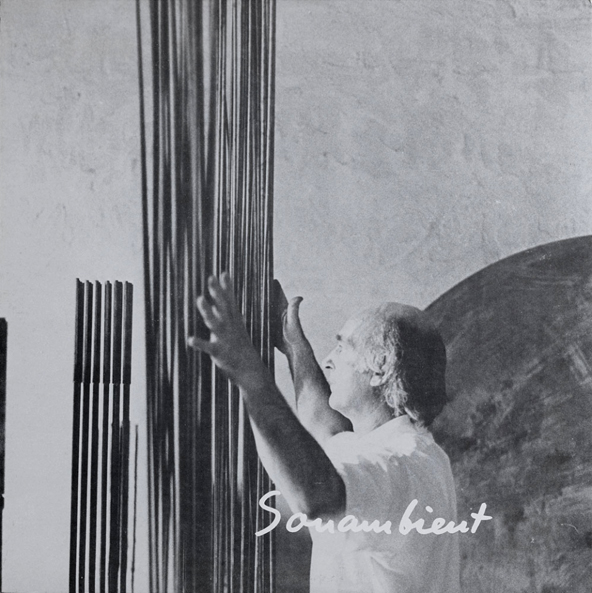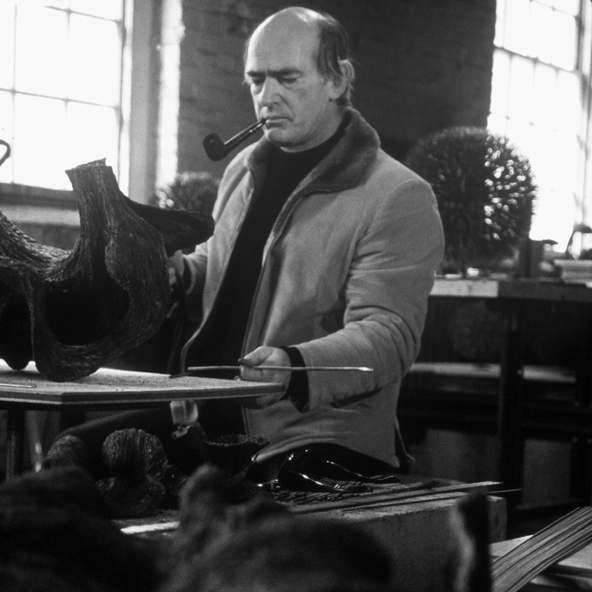 Sources: Harry Bertoia, Huntington Library, Mutual Art, 1st Dibs, Wright20, i-italy
---
---
share this post
---
---